Your wedding
Your vows, your readings and the structure of your ceremony makes it personal and intimate – I will look after all the legal requirements for you. I will delight in hearing your stories, how you met, how the proposal went, what is your idea of a perfect wedding. I feel it is a privilege to share this day with you and will give you my best!
Your day
At a park? In a chapel? On the beach? Where do you want your ceremony to take place? Let's find a location that has fond memories or where you will create new memories. A beautiful spot, a beautiful ceremony, a beautiful day.
Your way
Whether you are having a simple, intimate ceremony or hundreds of guests the day is still all about the two of you. We want the ceremony to be personal, one that will bring a smile to the faces of your friends and reflect your personalities. I approach every couple and every ceremony with warmth and genuine affection.
I conduct other ceremonies as well! 
The joy of a baby can be celebrated with family and friends with a naming ceremony. It is a great way to introduce your baby to everyone and welcome baby to your family. Whether you want a large gathering and formal approach or a fun-filled intimate ceremony – the choice is yours.
It is such a touching scene when a long-married couple declares their love again before friends and family. Whether a lot of time has passed or whether you just really want to reaffirm your love, a renewal ceremony is absolutely delightful. There are always lots of stories of the original wedding day and all sorts of events between then and now.
Marriage Equality
Finally marriage equality is here! I will be delighted to formalise your relationship under the new legislation and provide for you the safety and security that marriage will bring to your relationship.
Very exciting!
Funeral - Celebration of a life
Empathy, compassion and a genuine interest in assisting you through a difficult time are the main elements I bring to a celebration of life ceremony. My role here is to listen to stories and create a presentation that expresses the personality and importance of the loved one. I bring sensitivity and calmness to the ceremony and ensure that the services runs smoothly.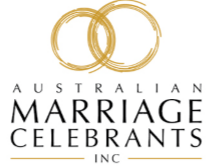 ABOUT ME
Hi, my name is Sue Jack and as a celebrant I am thrilled  to share in your excitement and help you to make your wedding day all that you want it to be. I am fun, friendly, happy, modern and creative and will share ideas with you to create a ceremony that is truly yours.
Partners
We work closely with these businesses to provide the best services for your wedding experience.

A magnificent wedding venue - Heritage with a twist. We look forward to making your special day all that you have dreamed it would be! Here at Mount Victoria Manor,…
Few places leave you with the feeling that you are at the top of the world. Perched on the highest point in the Kanimbla valley, with breathtaking panoramic views across…
Sweety's Cake House offers the finest in wedding cakes. Whatever your tastes, Sweety's will be able to cater for it. Contact Sweety's on (02) 6352 4405 (Website coming soon)
The Rustic Rose Florist is committed to offering only the finest floral arrangements and gifts, backed by service that is friendly and prompt. Because all of our customers are important,…
The Tiny Chapel is a delightful intimate wedding venue with beautiful views of the Kanimbla Valley and the Blue Mountains escarpment. The Tiny Chapel is a labour of love for…
Reviews
Mat and Mel

The rain stayed away and the sun came out for Mat and Mel's wedding at St Aubyn's in Bathurst.
Amy and Matt

Amy and Matt were married at Borrodell Vineyard in Orange on a hot summers day. Just lovely!
Tony and Cordelia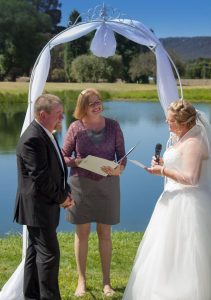 Tony and Cordelia were married at the Lithgow Golf Club on a superb sunny day.
Wanting you use local business for our special day we came across Sue. Sue is caring, helpful and supportive. We found Sue to be very professional in a friendly manner. Tony and I could not have picked a better person to be our celebrant.  Thank you Sue, you did an amazing job and you helped me to be strong without even knowing. The ceremony and reception was so much more than I could have ever imagined. It was beautiful.
Kelly Anne and Nathan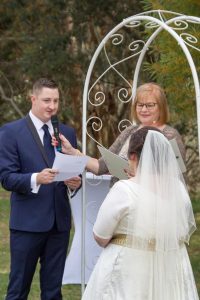 Kelly Anne and Nathan wrote secret vows to be read only at the ceremony. They were both a little teary but managed to get through them. They were both amazed that there were so many similar references in their vows to each other. So touching and heart-felt!
Sue's services as celebrant were excellent and without fault. She was the perfect choice for our special day. She went above and beyond, even contacting us when she was in Canberra to follow up with everything. We changed the date and times on her lots of times and she never got annoyed and was always professional. She even happily abided with our weird requests. Thank you so much Sue.
Donna and Jerry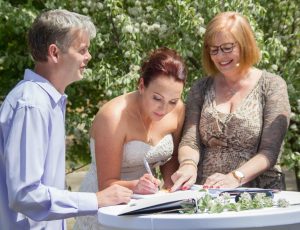 Donna and Jerry made their backyard a beautiful wedding garden. Lots of catching up with relatives and friends under gorgeous sunny skies!
With the sun in the air and family everywhere, it truly was a special day, as we prepared for the most sacred ceremony to take place between two people, at times it felt the lead up was excruciating.  But there was one thing that was stress-free and seamless, and that was our ceremony preparation.  Truly yours Ceremonies took the stress out of everything, it was all that we asked for and personal to us.  Sue not only made our ceremony everything to remember but we also made a good friend. We thank you for everything.
Michael and Jody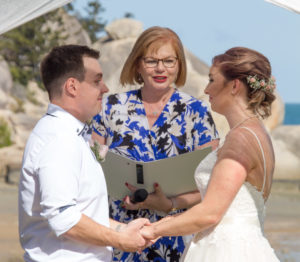 Michael and Jody escaped to Magnetic Island for a dream wedding and honeymoon.
Perfect weather, beautiful people!
Megan and Chris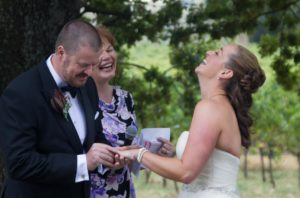 Megan and Chris were married under the magnificent oak tree at Racine in Orange.

For us, the search for a celebrant was a difficult one. We knew what we wanted, but felt like no one was listening. Until we found Sue. Everything was easy, and we felt like someone finally understood us and our views. Our ceremony was short, and sweet and exactly how we wanted it. Sue was amazing to work with and took care of all the little details that you don't even realise matter. We are so glad Sue was a part of our day.
Maravel & Giuseppe

Giuseppe and Maravel were married in their front garden in Katoomba.
A stunning sunny day in July - a fabulous ceremony.
Sue was fantastic. We were so happy with her, the help she gave us in preparing the ceremony and the support on the day. Just wonderful.
Let's chat!
You can call or message me on 0418 411 683 or fill in the form below and I will get back to you!